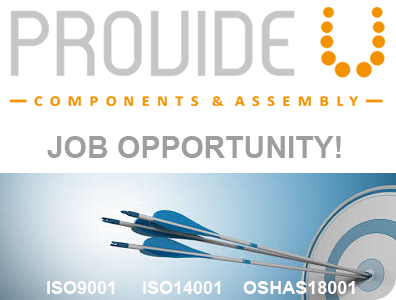 If you have long experience of quality and environmental work together with a burning interest of continuously improvements, this service employment is something for you.
ProvideU is a fast growing business partner within assembling of complete systems and custom made parts (Cable harness, Overlays and Membrane panels, Electronic components, Plastic- and Mechanical parts). ProvideU increases growth and profitability for its customers by supplying complete solutions in electronics, mechanics and final assembly. ProvideU is certified according to ISO9001:2015, 14001:2015 and OHSAS18001:2007. ProvideU operates in Estonia, Sweden and China.
Role and main tasks
Our quality and environmental work is very important both for us and for our customers and as a manager of this work you will be very important in the company. You work extensively with external and internal contacts, and your area of responsibility includes managing and developing work in quality and environment together with the company's management team and other functions. You have partly the overall responsibility for driving our proactive quality work and partly responsibility for ensuring that quality problems encountered are identified and remedied efficiently. Continuously update and improve our management system to meet our customers' needs and comply with ISO9001, ISO14001 and OHSAS18001
The management's representative in quality and environmental issues
Maintenance of the management system
Internal and external audits
Conduct and monitoring of legal requirements, rules, directives and standards that concern the business and our processes
Complaints, Customer Complaints and Deviations
Supplier management and supplier development
Participated in new projects concerning QA and QC
Work with health and safety issues
General Quality, Environmental Issues
Follow up delivery and quality performance and work with continuously improvements
Location: Tallinn
Employment: full-time
About you
We are looking for you who have a degree in engineering at secondary level and have previous work experience from quality, environment and work environment. Fluent English in both speech and writing. You are driven, self-reliable and burn for continuously improvements. You like to communicate both internally and externally
About application
The employment will be appointed immediately and the recruitment work will therefore take place on a regular basis. You apply via email and enclose personal letters and CV.
Welcome with your application to tatjana.papp@provideu.com
If you have any questions about the employment, please contact Tatjana Papp, +372 55654329 or Fredrik Forngren, +46 70 7124654, fredrik.forngren@provideu.com
www.provideu.com
job, job opportunity, quality manager